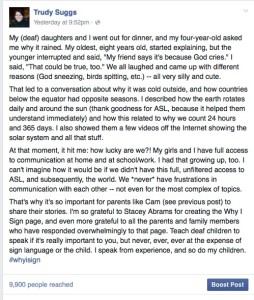 (Reposted from my Facebook page, February 13, 2016)
My (deaf) daughters and I went out for dinner, and my four-year-old asked me why it rained. My oldest, eight years old, started explaining, but the younger interrupted and said, "My friend says it's because God cries." I said, "That could be true, too." We all laughed and came up with different reasons (God sneezing, birds spitting, etc.) — all very silly and cute.
That led to a conversation about why it was cold outside, and how countries below the equator had opposite seasons. I described how the earth rotates daily and around the sun (thank goodness for ASL, because it helped them understand immediately) and how this related to why we count 24 hours and 365 days. I also showed them a few videos off the Internet showing the solar system and all that stuff. 
At that moment, it hit me: how lucky are we?! My girls and I have full access to communication at home and at school/work. I had that growing up, too. I can't imagine how it would be if we didn't have this full, unfiltered access to ASL, and subsequently, the world. We *never* have frustrations in communication with each other — not even for the most complex of topics.
That's why it's so important for parents like Cam (see previous post) to share their stories. I'm so grateful to Stacey Abrams for creating the Why I Sign page, and even more grateful to all the parents and family members who have responded overwhelmingly to that page. Teach deaf children to speak if it's really important to you, but never, ever, ever at the expense of sign language or the child. I speak from experience, and so do my children. ‪#‎whyisign‬
Related posts: