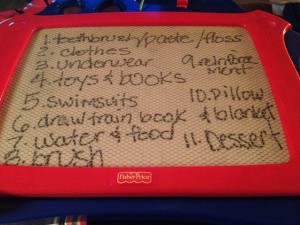 Yesterday, my three-year-old son instructed me to sit with him and help him make a list for when we go to a hotel. Mind you, we're not going anywhere anytime soon, but he likes to pretend we're staying at a hotel. Anyway, he wanted to list things to pack.
I'm afraid my list-making gene has gotten passed down to him.
P.S. The "Draw train book" is in reference to an invisible-marker book that he just got. Don't ask.
Related posts: