Read my original article and open letter (available in ASL and English) before reading the below.
Warning: This article includes graphic language.
In March, I wrote an article objecting to sComm's practice of promoting the UbiDuo as a replacement for interpreters. I then wrote an open letter urging sComm to retract its statements and apologize to interpreters and the community. Several messages I sent to sComm went unanswered. Before continuing, it may help to know a bit about sComm.
About sComm
sComm is located in Raytown, Mo., just outside of Kansas City. sComm promotes itself as being deaf-owned, but in reality, it's partially owned by Jason Curry, who is deaf. His parents, David and Emma Curry, both hearing, are the other owners. David, credited with devising the UbiDuo concept, is a well-known real estate mogul in Sedalia, Mo.; he does not sign. Emma was an educational interpreter (using Signed Exact English) at one time, but is now the vice president at sComm and is typically involved with day-to-day matters.
The start of sComm (the name stands for simultaneous communication) was discussed in an article in The Examiner; sComm "applied for a National Institutes of Health grant. It took five years for the funding to come through. In 2005 the company received a $1.5 million grant." Curry, now 46, was then working for the federal General Services Administration, and resigned to take the company forward in 2008.
Response to My Writings
After my article and open letter were released, the response was overwhelming. Message after message shared people's heart-wrenching stories from of being forced or pushed to use the UbiDuo instead of having interpreters brought onsite, especially in hospital and government settings. Deaf Hearing Network also aired a segment featuring a woman who shared her negative experiences with the UbiDuo.
On March 27, Curry released a video. The captions, shared below, said:
Hello, my name is Jason Curry. I am the co-founder of sComm. I am deaf myself. I welcome the constructive discussions on communications in situations with abused children who are deaf. I realize that recent posts and comments on our Facebook page may not have properly reflected our position. The wording in our post did not clarify clearly that sComm advocates communication choices for everyone. How you choose to communicate is your individual choice. We support new proposed legislation to ensure that interpreters during child abuse discussions are certified interpreters rather than uncertified volunteers. Since the UbiDuo device also provides confidential face-to-face communication, as one of the options. The whole legislation and our focus is to help abused children to get the help. They need to rescue them from that abuse. We do not advise the mental health professionals or other professionals on how to choose communication options for children. I want you to know that we are not trying to replace interpreters. The UbiDuo just like interpreters, also provides face-to-face communications. Our mission at sComm is to provide additional communication options for the deaf, hard of hearing and hearing community. Thank you for watching.**
On April 6, Missouri Association of the Deaf (MoAD) President William Walker posted an open letter to sComm on the MoAD Facebook page:
This is an open letter to Jason Curry, CEO of sComm.

Missouri Association of the Deaf, Inc. (MoAD) would like to inform you of our concerns regarding the vlog that was made and posted on the sComm Facebook page on Friday, March 27, 2015. There was a comment where sComm stated the goal was to "eliminate the use of interpreters" by using UbiDuo. We, MoAD Board of Directors, feel that this kind of statement is not appropriate because not all Deaf and Hard of Hearing people have the same communication choice. MoAD has been advocating for the Deaf and Hard of Hearing people's rights in the state of Missouri, to allow them to make their own communication choice, whether it is through a sign language interpreter, UbiDuo, Video Relay Interpreter, etc. sComm should be aware that UbiDuo is not intended to replace sign language interpreters or any other communication choice that Deaf or Hard of Hearing people choose. In addition, various places, especially hospitals should not force the Deaf and Hard of Hearing people to use your product to "save money". If we receive any complaints from any individual that has had experience being forced to use UbiDuo when they rather have a sign language interpreter or other communication choice, MoAD will take action to investigate into this. Again, please understand and respect our deaf community where we have various communication modes to choose from.

William Walker
MoAD President**
Walker said that the open letter was difficult for him to share, since he attended school and grew up with Jason Curry in Sedalia, Mo. "I consider Jason a friend, but what sComm is doing is wrong. Especially its practice of encouraging the UbiDuo to replace interpreters." The feedback he received from MoAD members was all in support of the letter, because they, too, continue to be frustrated with sComm's practices. Walker also noted that sComm is not an affiliate of MoAD.
On April 7, Brandon Withem, who was a sales representative for sComm, posted a message on Facebook:
Due to comments recently made by sComm, Inc and the public outrage that has ensued as a result, I feel the need to make my position known.

I am deaf and have been for most of my life, that did not stop me from having great English. Even though having proficient English helps me interact with hearing peers, I am still left out to a certain degree in the conversation simply because I cannot hear. All deaf people are left out regardless of the tools being utilized; be it an interpreter, a CART, paper/pen, a hearing aid or the UbiDuo.. to name a few tools. What matters is that the person utilizing the tool is comfortable with that tool. I believe in the UbiDuo, it complements and exposes my English proficiency. However, not everyone communicates in perfect English. Really, I am an oddball to speak in "near perfect" English all the time in today's society. Most people do not speak the way they write proficiently in a social setting. It is called conversational English, the language of predominately English speaking people in America use in their daily lives when not in a formal setting, which is most of their lives and most of Americans. Don't be afraid to ask for correction of spelling or clarification. Hearing people do it ALL the time, deaf people don't realize it mainly because they don't hear hearing people ask for clarification.

We, the deaf people, face continuous discrimination every moment we live our life. It is prevalent in our access to every single aspect of our life. Were discrimination not to exist, we would not be facing issues such as these: facing hardships in communication or finding and landing entry level jobs and retain the job after 6 months. It does not help when a company that is a beacon in the deaf community has made damaging remarks in its own community about the very thing that sets us apart from the rest of the world. In turn, it is up to us to ensure that we are given equal access and if not, to pursue it.

sComm, Inc, the company was going in a direction that I did not agree with when I became employed with them so I resigned. Because of the comments recently made by sComm, Inc in the utilization of the UbiDuo and how interpreters should be completely phased out of a deaf person's life. The comments made by sComm, Inc does not reflect my beliefs nor my desires in equal communication access for the deaf community. Their recent statements have led me to take this action in response. I have formally insisted that Jason take down any photos of me that is currently associated with sComm, Inc on its website and its Social Media feeds. He has had ample time to honor my request.

 I do not stand by nor do I condone the recent comments made by sComm, Inc. The recent posting by Jason does not explain the reverse-audism attitudes some statements made public by sComm, Inc recently clearly exhibits and is an affront to the deaf community. I believe in supporting options and choices and the posts recently made by sComm does not reflect what I have always tried to emphasize as an employee. 

I disavow my previous association with sCommm, Inc other than the fact that I am a former employee of sComm, Inc… sadly.**
Brandon's wife, Mary Pat, was also an employee at sComm, but is no longer there.
CEO's Statement
On April 9, Curry released a statement blaming sComm's social media specialist for the "unapproved posts":
As CEO and Co-Founder of sComm, I would like to reaffirm our commitment to enhancing the ability of deaf, hard of hearing, and hearing people to interact with each other freely without barriers.  A heartfelt and sincere apology to both the deaf, hard of hearing, and interpreting community for unapproved posts made by one of our new media staff. We are taking steps to assure it won't happen again. It was never our intention to offend anyone.

As a part of the deaf, hard of hearing, and hearing community, we are working to ensure that our overall philosophy is properly represented, both internally and externally.  We advocate all communication options which utilize the use of VRS, VRI, on-site interpreters and in combination with communication devices like the UbiDuo to maximize communication and timely interaction for everyone.  In our 10 years of experience in the communication device field, this combination of communication methods has generated overwhelming success stories from people who are deaf, hard of hearing, and hearing. We support communication options to maximize communication freedom and to help everyone live a full and satisfying life.**
Okay, but I wasn't quite convinced. I wanted to see changes in its historical practices of disparaging ASL and interpreters. Critical comments had been posted even before the new social media specialist came onboard, and were left up for months. Disparaging ASL and interpreters continued for several weeks, almost as if trying to defy my article and the response. Additionally, I was told that the social media specialist wasn't at all familiar with Deaf culture or the differences between ASL and English, and that nothing would have been posted without Curry's approval.
Curry also had full access to all sComm social media accounts and often monitored them. One such incident was when Curry ordered his system administrator to enter the social media specialist's email account without the specialist's knowledge. Becca (last name withheld) said Curry "wanted [the specialist] locked out until he could delete an email and then give the specialist the new password. He stated that those emails were sComm property and he could lock any of us out at any time and review his emails."
On June 14, the social media specialist who had been blamed for the "unapproved posts" resigned, citing "different interests."
Working for sComm
In one year alone, sComm purportedly had 14 employees leave. All the former employees interviewed for this article cited management style and inappropriate representation of the deaf community as reasons for leaving. Becca, who worked with sComm for four years as secretary, said, "It was the worst three, almost four, years of my life and I am so glad it is over."
Now employed elsewhere, Becca said, "I love going to work everyday, when I would wake up dreading it before. Jason has his ups and downs, but he is really the whole reason why [sComm] can't keep people and why people want to leave not even five minutes after they walk in the door." She added, "I have an email about how much he wanted me to stay at his company, then to just start screaming at me when I had just walked in the door." When she stepped outside to calm down, she was told she was fired.
Curry was also Becca's landlord. He owns a house across the street from the sComm building, and several sComm employees have lived in this house at different times. Some renters interviewed for this article shared frustrations of having Curry serve as their landlord and employer.
Another employee, Rick*, says he struggled with sComm's stance on interpreters. He also mentioned frustratingly high expectations of his availability, often working 10-20 hours over the standard 40-hour workweek. "I would come to work and be screamed at about why I hadn't done this or that in my off-hours," he said, "Then I would step away to do my work, and I'd get email or texts from Jason apologizing." He eventually was let go after a major disagreement, and was evicted from the home Curry owned.
Jake* worked in sales. "I was taking a different approach than what sComm took in the past. sComm would target hearing decision-makers to order for their Deaf employees unknowingly, which  often resulted in more sales. However, the Deaf employees rarely used UbiDuo and at times this increased friction between the Deaf employees and their supervisors because the supervisors believed that UbiDuos would replace interpreters." Jake decided to take a different approach by working with Deaf people to see if the UbiDuo could work for them in certain situations, which sometimes led to sales, but many times didn't. "Over time, I learned that many Deaf people were resistant due to sComm's current marketing and sales practices where they often said and implied that UbiDuos would replace the need for an interpreter."
This led to increasing conflicts, "ultimately leading to us parting our ways on poor terms," Jake continued. "The most frustrating part of this whole journey was not being able to enlighten Jason in what he was truly doing to our community. Jason was the most stubborn person he had ever met and is ultimately interested in getting his parents approval, although he would never admit it."
Jake further described Curry as "an extreme micromanager that wanted everything his way. If you did things differently, you were expected to get trouble with Jason. Many of my co-workers submitted to his ways until they got fed up and left or fired. It was a truly uncomfortable environment for being Deaf, and believing in who we are, we were ridiculed.  Therefore, there was fear in working there."
Documents shared by former employees supported Jake's claims, illustrating how often Curry lost his temper with his employees, cursing at them both in person and via text or email. One former employee told of how Curry referred to a female employee as a "cunt bitch," and me as a "bitch." A message I saw showed Curry talking with an sComm colleague about having sex and kids with an outside contractor. He tried to have the colleague set him up with the subcontractor, saying, "oh my god she is soooo hot" [sic]. When told that she was half his age, he said, "I don't care."
Furthermore, documents show that Curry eagerly authorized the DMCA cease-and-desist letter to me, which I quickly dismissed after seeing that it had been copied off the Internet. This type of intimidation appears to be the norm at the company. "[Curry] is argumentative, explosive and extremely rude," a former employee said. "His staff works from 8-5 Monday to Friday, but…he expects them to be on their phone, 24/7/365. If you tell Mr. Curry that you are busy doing something else, like out with family, even on your time off on the weekends, he goes crazy. If you talk back to him, he … threatens that he'll terminate you and he actually does."
Several emails also show Curry apologizing repeatedly for losing his temper and begging for forgiveness. For example, when the social media specialist left, Curry immediately sent a long, apologetic email and emphasized that he had sent the specialist's mother a replacement UbiDuo unit — which he specifically wanted me to know, according to several individuals.
Three former employees have reported that the Dept. of Labor is investigating sComm for inappropriate compensation of overtime. Becca said, "I was told that the Dept. of Labor and sComm met the other day and sComm was found to have been fraudulent in paying their employees overtime and sales commissions." Becca added that employees who filed complaints would be receiving back pay.
I called the Dept. of Labor on July 24 to confirm this. The investigator I spoke with asked me how I had gotten this information. I said, "It was shared with me by people involved in the investigation." She said, "Oh, okay. Let me get my supervisor." That alone appears to confirm that there is an investigation. However, the supervisor said they could not confirm nor deny the investigation.
Social Media Practices
When I posted my original comments on the sComm Facebook page prior to the release of my March 27th article, I was immediately barred from accessing the page, as were many others who questioned sComm's practices. I'm told that initially, sComm brushed off my article. In fact, Curry said in a message, "…I am so excited the firestorm is winding down don't you think it was just a few stupid radical idiots" [sic]. He also said, "Trudy is the only one who wants attention."
However, sComm continued to remove any and all negative comments, and Curry allegedly called deaf people "militant fucks."
Another questionable practice sComm engaged in after my article was released, as documents show, was having an sComm representative go through the list of all the 8,000-plus people who liked sComm's Facebook page and identify whether they were deaf or hearing. This was apparently so Curry could identify who the dissenters were.
I was somewhat puzzled by sComm's sudden jump in numbers of Facebook likes after my article, but chalked it up to people's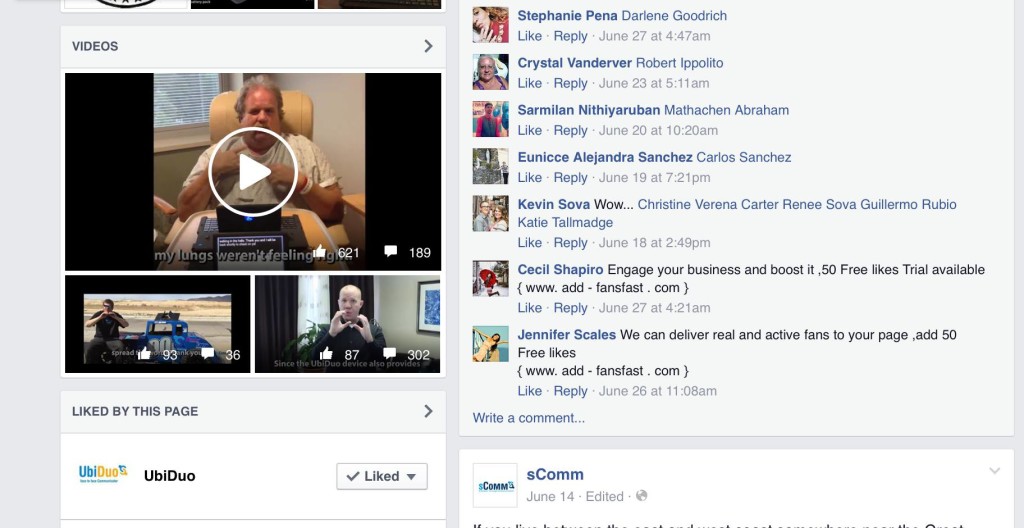 curiosity in the company. I later learned that sComm had purchased Facebook advertisements to help boost its numbers, and then worked with "like farms" such as described in this article, where outside companies create fake accounts that provide likes. According to emails and other documents, sComm was focused on having higher numbers of likes than video relay service (VRS) companies. He apparently had the goal of going from a couple thousand to 25,000 likes by the end of 2015. As the above screenshot shows, sComm had many likes coming from fake accounts that also posted spam messages such as, "Get free likes, s0c-likes.com."
I spoke to a person whose testimonial is featured on the sComm website, Bertha*. She said that she had tried the UbiDuo, but disliked it so much that she asked to be removed from the website. The company refused, saying that they were bound by a contract. Her testimonial is still on the website, although she is quick to emphasize she does not support the company or its practices.
Recent Events
On June 17, I received an email from Jeff Prail, identifying himself as sComm's Communication Access Manager, requesting a videophone meeting between Curry and me. I responded asking what it was about, and he said the negative campaign last March. sComm had ignored my messages for months, banned other dissenters and me from the sComm page, and now they suddenly wanted to talk to me via videophone? Hmm. Since sComm has clearly stated that ASL is a language inferior to English, I thought we could communicate via email instead. Two days later, I still had not heard from Curry, and followed up with Prail, who said it was on Curry's list of things to do the following week.
A month later, after continuing to receive reports from former employees and unhappy customers, but nothing from sComm I decided to check in with Prail, who said he'd follow up with Curry. On July 14, I received the following from Curry:
Trudy,

Hi ,good day.    Good to hear from you.  We would be happy to answer any questions you have and clarify the mission and goals of sComm supporting communication for people who are deaf, hard of hearing, late deafened, and hearing.    We are all working together to provide as much access as possible for all of us. 

I look forward to hearing from you.

Jason**
What a remarkable difference in tone. I was puzzled, though, and responded:
Jason, it was my understanding that you wanted to talk to me, based on Jeff's initial email. So let me know what you wanted to discuss.

I'm also curious why your mother is copied on this message. What's her role?

On that note — I do have questions, but want to know what you wanted to discuss first before I ask.

Thanks,
Trudy**
He responded on July 19:
Hi Trudy,

I just got back home from being out of town last week.  Emma is actually my mother who is the Vice President and co-owner of sComm along with my dad.    I was told that you have been trying to get a hold of me to ask some questions.   I was under that impression that you wanted to talk with me.  

We would welcome the opportunity to talk with you and answer questions you might have.

I look forward to hearing from you. 

Jason**
Gee, this was getting confusing. I forwarded him Prail's emails, and then sent him a long list of questions. The questions were quite hard-nosed, including questions about all the issues mentioned in this article, about his management style, about why the Communiphobia video was still on the sComm website (it is supposedly satirical in nature, but it portrays interpreters as dogs on leashes, implying that deaf people are leashed to them—hardly professional or respectful), and a host of other allegations. I also asked if he provided his employees with cultural sensitivity and language training, making sure they fully understood the crucial differences between ASL and English.
The day after I sent my questions, a colleague not affiliated with sComm called to see if I could somehow work this out with Curry. Apparently, Curry had contacted him (among other people) to try to convince me to not write this article. However, it seemed that I was being portrayed as anti-UbiDuo and that I was out to destroy the company.
I once again clarified that I personally had no problem with the UbiDuo, even if I didn't have a direct need for it. I added that I thought the UbiDuo is simply a glorified laptop, but if people want to use it, especially non-signing people, more power to them. It's certainly a viable option in some cases.
What I took, and take, issue with was the forcing of the UbiDuo upon deaf people, especially those who are unable to type perhaps because they're too young or because they physically are unable to type, and those who are not fluent in English or another written language. I also take issue with the portrayal of interpreters as dogs, and with the portrayal of interpreters and ASL as subpar to English.
On July 22, Curry replied:
Good afternoon Trudy,

Thanks for sending over your list of questions.  It is important to us to clear up any miscommunication or misunderstanding regarding sComm's vision position, philosophy, ad goals, particularly as it relates to the use of interpreters and other modes of communication.

Most importantly, as part of our core philosophy from the beginning of our company, we designed the UbiDuo as a n additional communication option for deaf, hard of hearing, and late deafened people who sign or don't sign.  We believe a variety of communication options including interpreters VRS, VRI, and CART are important for anyone.

It has never been our intention or desire to pitch UbiDuo as a pure replacement for interpreters. In fact while we're avid users of UbiDuo ourselves, we also use interpreters for staff meetings and other meetings in general.  They're an essential part of how we communicate.

The materials currently posted on Facebook and Twitter do not talk about UbiDuo replacing interpreters.  We believe interpreters are important, but we also strive to help empower deaf, hard of hearing, late-deafened and hearing people maximize their communication tools. 

We also recognize the many important diverse modes of communication such as ASL, PSE, SEE, Cued Speech, and other forms of sign language.

In our company's video apology we pointed out incorrect comments made on Facebook about interpreters did not reflect properly our views and philosophy.  We regret those comments.  We regret those mistakes.  In our press release we reiterated our philosophy about maximizing communication options.  Options are great.  The more the better.

Our mission today is the same as the day we started:  We want to help bridge the communication gap between deaf, hard of hearing, late-deafened, and hearing people in a face-to-face situation using the UbiDuo as a part of that.  We're proud of our product and our customers.

As a side note, we note that you have asked a number of questions regarding our company financials, employees, ad former employees, customers, and other personal matters.  sComm, which is a privately held company, considers information regarding those topics to be highly confidential, and in some instances legally-protected trade secrets.  As is the standard practice for nearly all privately-owned companies, we do not share that information with outside parties.  We hope you will respect our decision on this point.

Thank you forgiving us the opportunity to share our vision, position, philosophy, and goals of sComm. I really appreciate you giving us the chance to explain our stance on these important matters.

All the best to you,

Jason**
Spin-doctoring at its best, I thought, but it was how I expected him to respond. In reviewing the sComm Facebook page, comments and posts indeed have been toned down. There seem to be less censoring and removal of questions and comments by people who challenge the sComm approach.
What Now?
So, what now? As I said in my open letter, I am relentless about ensuring that sComm appropriately represents the deaf community. By presenting itself as a deaf-owned company, sComm must remember at all times that every single thing it does, including its sales, directly reflects upon the deaf community. Past comments have created dangerous misconceptions especially among hearing entities and providers of what constitutes accessible communication, and disregard the main requirement of accessibility: meeting the individual's needs. Forcing people to use the UbiDuo can be life-threatening, as evidenced by the many personal stories shared via social media.
sComm must also present UbiDuo as an option, not as the sole method of communication. The deaf community must continue to hold sComm accountable for any and all of its misinformation, miseducation and misdeeds. sComm should continue to improve its practices, respect those who are in the community, correct its mistaken messages with previous, current and future providers, and strengthen its commitment to doing what is right.
* Names have been changed.
** All emails and posts have been shared exactly how they were written. They have not been edited in any way. 
This article cannot be copied, reproduced, or redistributed without the written consent of the author.
Related posts: