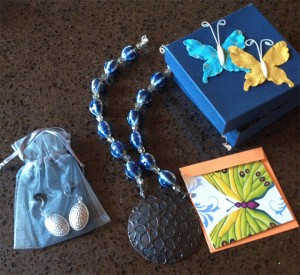 I ripped open the packet excitedly. I'd wanted to buy Heidi Branch's amazing, handmade jewelry for quite some time, but every piece I liked was always snapped up quickly by other customers.
I finally managed to order two pieces recently, and hoped they were all they seemed to be. When I received the earrings and necklace (see picture) just a couple of days later, I was pleased not only with the quality but also the packaging.  I wore the necklace a few days later, and got so many comments on it. Beautifully crafted, the necklace didn't feel loose or as if it were going to fall apart, like a lot of handmade jewelry. The earrings were also easy to wear.
Coincidentally, I gave a presentation at a conference today, and ran into an old friend. I noticed she had a beautiful necklace on and told her I loved it. She lit up and said it was from Heidi, and that she wore it often even though she had gotten it five years ago. I told her that I had actually worn the new necklace earlier that day, and that I was in love with it.
Heidi started making jewelry when she was 14 at camp, but began selling her work about eight years ago. She has taken classes, and invests only in high-quality beads and materials. "I've become a regular at the local bead store, which is really convenient because every time I go in, the people who work there know who I am," she says with a laugh.
Heidi, who lives in the Clearwater, Fla., area, says that she tries to have at least 20 designs available each month. "Every design I make is unique, one-of-a-kind," she says. "I also make custom pieces, and can repurpose jewelry such as an old family heirloom like a brooch or necklace. I can make it into a modern necklace with the design of the customer's choice, or do different things with it. So even though I have 20 designs available a month, I do a lot of work along with that. I love it."
She also makes bracelets in addition to her stunning necklaces and earrings. Among the benefits of her products is that she will repair her custom jewelry immediately in the rare event that they break.
My family won't have to struggle with what to buy me for birthdays and holidays anymore. I just want a Heidi Branch piece.
Check Heidi's page at  www.facebook.com/HeidisBeadJewelry.
Related posts: